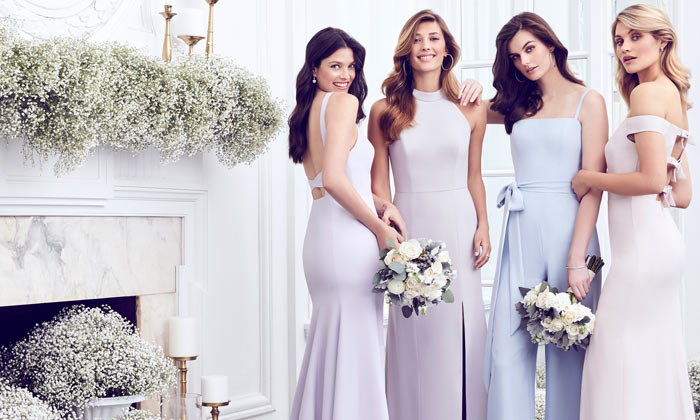 Summer weddings are here! It's time to go for shopping for your big day, and choosing the perfect summery colors for your bridal party will help set the tone for your wedding décor. Summer provides great inspiration to incorporate bright hues as well as pretty pastels and muted colors. Depending on the destination of your wedding and the overall color palette, choose bridesmaid dresses in complementary shades to tie in everything perfectly. Trendy styles like blush bridesmaid dresses are the flavor of summer weddings.
If you're looking to create a gorgeous wedding color palette, and are shopping around for bridesmaid dresses, keep reading. Here, we give you top color ideas for your bridal party to make them looking stunning on the big day, while creating a pretty color scheme for your wedding décor.
Trendy Blush
Blush is a trendy color that's a favorite of bridal designers. This nude shade with undertones of pink, peach, and beige works great for a summer wedding. Blush bridesmaid dresses can be combined with gold, white, ivory, pastel pink to create a beautifully soothing color palette on your big day. Your bridesmaids will love this soft and feminine hue. Opt for trendy styles and flattering silhouettes. Off-shoulder gowns or sequin embellishments add the perfect touch of modern detailing to blush bridesmaid dresses.
Rich Midnight Blue
Summer is the perfect time to host a laid-back barbeque lunch reception on your wedding day. Summer BBQs are associated with patriotic American holidays like 4th of July or Memorial Day. Midnight blue is a beautiful rich color that can be used to create a wedding décor inspired by American colors. Midnight blue gowns in flowy fabrics like chiffon will make your bridesmaids look stunning and elegant. Opt for vintage styles like halter neck or V neck designs. Midnight blue bridesmaid dresses can be paired with red, silver, or ivory décor to create a unique color scheme for your summer wedding.
Summery Yellow
What better time to sport a fresh summery bridesmaid dress than at a summer wedding? Yellow is a refreshing color hue that can make your bridesmaids look bright on a beautiful summer day. Perfect for outdoor weddings, opt for cocktail length yellow dresses to give your bridal party a cool and fun look. Dress your bridal party in yellow and use white, ivory, orange, peach, gold accents to create vibrant summer wedding décor.
Blush bridesmaid dresses work well for summer weddings, creating a beautiful and soothing palette. Visit a specialty bridal store to shop for elegantly styled bridesmaid dresses.